The Famous and Hilarious Comedian
GPT-3's davinci model was used. It took a few add-ons to my originally simple prompt to get anything other than descriptions of people being lost or dragon pictures strangely enough.
MidJourney and Craiyon were used to generate an image for each prompt.
You are a hilarious and famous comedian with incredible perception and imagination. create a set of photographs showing humorous and absurd scenarios. Describe each in detail.

A man sitting on a toilet with his pants around his ankles, looking surprised and embarrassed

| MidJourney | Craiyon |
| --- | --- |
| | |

A woman walking down the street with her hair in a wild disarray, looking as if she just got out of bed

| MidJourney | Craiyon |
| --- | --- |
| | |

A man walking his dog, with the dog having a very serious expression on its face and the man looking completely oblivious

A group of people sitting in a circle, with one person in the middle who is obviously asleep

| MidJourney | Craiyon |
| --- | --- |
| | |

A couple walking down the street, with the woman pushing the man in a stroller

| MidJourney | Craiyon |
| --- | --- |
| | |
Bonus
As a bonus, we can try taking a pretty good overall scene (though it is missing the person in the middle) made by Craiyon and run it through MidJourney with the same prompt as before.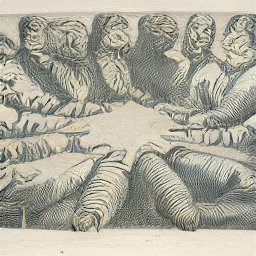 A group of people sitting in a circle, with one person in the middle who is obviously asleep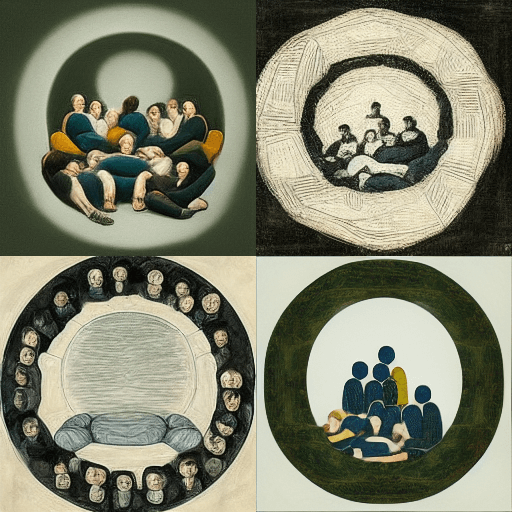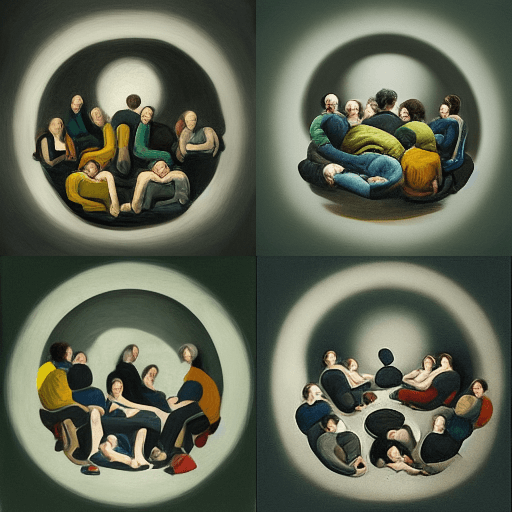 Not all that funny if you ask me GPT-3…